Vital Skin-Strengthening Hyaluronic Acid Super Serum
All Skin Types, including Sensitive Skin
A skin-strengthening serum that helps protect against skin-aging stressors and visibly correct signs of aging.
Old price
New price
S$ 91.00



Vital Skin-Strengthening Hyaluronic Acid Super Serum
A skin-strengthening serum that helps protect against skin-aging stressors and visibly correct signs of aging.
Earn 91 KIEHL'S REWARDS points with this purchase
What It Is
Our skin-strengthening serum penetrates skin up to 8 surface layers deep* to help correct signs of aging through visibly diminishing fine lines and reviving tired-looking, dull skin, which can be caused by skin-aging stressors. Formulated with 11kDa Hyaluronic Acid — our smallest form of Hyaluronic Acid — and a proprietary Adaptogenic Herbal Complex, our potent "super serum" deeply penetrates skin's surface layers** and neutralizes skin-aging stressors to visibly renew skin.
*Based on a clinical study of 25 panelists measuring the penetration of the full formula via tape stripping.
**Stratum corneum layers.
What It's Good For
Strengthens skin from within its deepest surface layer
Helps correct visible signs of aging, which can be caused by skin stressors including pollution, stress and sun exposure
Visibly reduces fine lines, improves resilience and boosts radiance for glowing, healthy-looking skin
Absorbs easily with a lightweight texture
For all skin types, including sensitive skin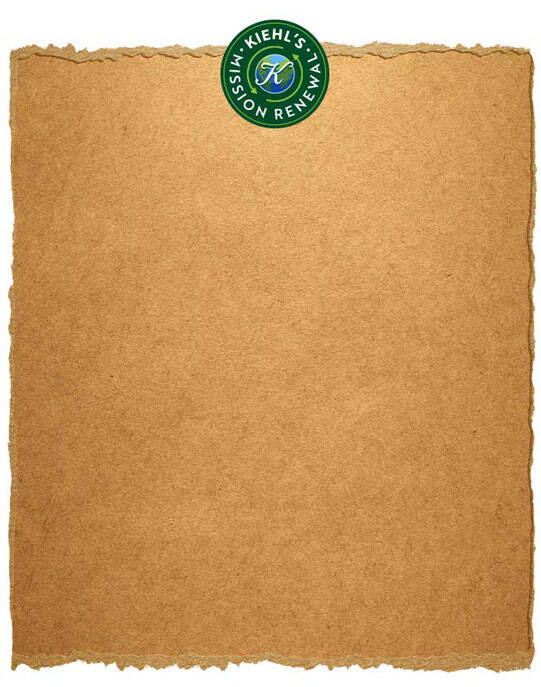 Filled with Purpose &
Packed with Respect
As we continue to work toward a healthier planet, more responsible sourcing, formulas and packaging are a must. That's why our skin-strengthening serum
is formulated with renewable and sustainably sourced 11kDa Hyaluronic Acid. This serum also comes packaged in FSC-certified paper packaging,
meaning the trees used came from responsibly managed forests that provide environmental, social and economic benefits.
We actively invite all people to join our journey toward a future made better.
Key Ingredients
11kDa HYALURONIC ACID

Our smallest molecular size of Hyaluronic Acid, this micronized ingredient penetrates to fortify skin within its deepest surface layers.* By delivering skin-strengthening hydration to skin's most vulnerable layer, 11kDa Hyaluronic Acid helps better retain moisture for improved resiliency, suppleness and bounce. Our Hyaluronic Acid is also renewable and sustainably sourced.
*Stratum corneum

ADAPTOGENIC HERBAL COMPLEX

Our Adaptogenic Herbal Complex is a proprietary blend of adaptogens — Red Ginseng Root, Holy Basil and Schisandra Berry — traditionally used in Traditional Chinese, Korean and Ayurvedic Medicine. Within our formula, these adaptogens work synergistically to defend skin from stressors while renewing and resurfacing skin's texture for a smooth, radiant appearance.
How to Use
Apply skin-strengthening serum onto cleansed face and neck, morning and night
Can be used under another serum and/or moisturizer
Avoid contact with eyes
If contact occurs, rinse thoroughly with water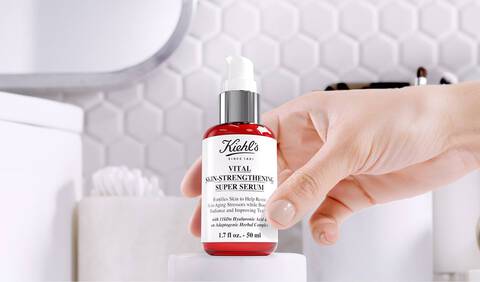 Did You Know?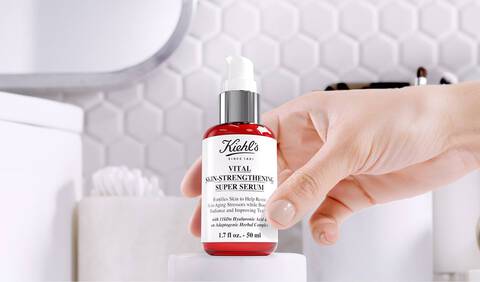 Every day your skin comes into contact with stressors that can all lead to premature skin aging. UV exposure, pollution and extreme temperatures along with tobacco, stress, lack of sleep and nutrition can all have negative impacts on your skin and cause dullness, dryness, dehydration, fine lines and other signs of aging. Our formula is clinically demonstrated
*
to double skin's strength
**
to help protect against
stressed skin
for a radiant, healthy-looking appearance.
*Based on a 4-week clinical study on 58 subjects tested in urban and polluted environments.
**Strength Index based on a composite, average score of clinically graded parameters after using the product for 4 weeks vs one week of use.